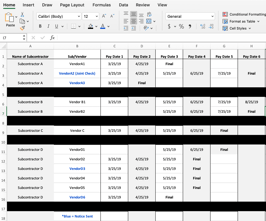 Collecting & tracking lien waivers is a headache. There is so much to track!
It's incredibly common to use a lien waiver tracking spreadsheet to manage all of the stakeholders on the job and the paperwork that needs to be exchanged with them.
A lien waiver tracking spreadsheet makes the job of collecting lien waivers easy...and reduces the risk that you'll get burned!
This is a really critical component of a good lien waiver tracking process.

You need to clearly see who is on the job and where they fit into the contracting chain. Having a nice, clean system that can keep track of all the layers of your job is going to make your job a lot easier.

Though you should consider some system to do lien waiver tracking and collection, you can find an example spreadsheet for lien waiver tracking here, which is a great start.