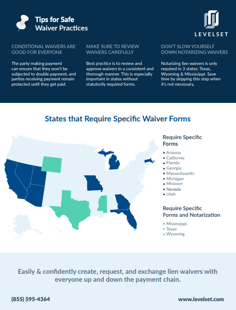 The one pager will explain all of this in detail including:
What is a lien waiver?
What isn't a lien waiver? How is a lien waiver different than a Lien Release (Lien Cancellation)?
Two categories of lien waivers and the types of lien waivers depending on a project's progress when payment is being made.
States that require specific lien waiver forms to be legally compliant.
Best practices for managing waivers to speed up construction payment.
Don't end up on the wrong side of a lien waiver exchange. Make sure you're exchanging the right lien waivers!